February 18, 2013 by Irish Peloton
Cavendish and Milan San Remo – An Air of Inevitability
"I'm not looking forward to Milan San Remo, it's not really a race for me anymore."
So says Mark Cavendish, professional cyclist and professional bullshitter. The world's best sprinter uttered these words in the aftermath of the Tour of Qatar which he won overall along with four stages and the points classification. And he was only there in the first place as a last minute replacement for the injured Tom Boonen.
Cavendish may want all of his rivals to believe that Milan San Remo is not a season goal of his, but the facts tell a different story – that he has never been in better shape at this stage of the season.
He won a race in January for the first time in his career (Stage One of the Tour de San Luis), he has won more races this year than he has won before Milan San Remo during any previous year (six, and counting) and he has just won four stages in a row for the first time ever. In addition, many riders and commentators have noted just how lean he is looking for this stage of the season.
Cavendish's sprint on the final stage of the Tour of Qatar was the most impressive of his four wins. In the picture to the right, Mark Cavendish is circled in the bottom left. He has 35 riders in front of him, with no lead out train. Nineteen seconds after this still frame was taken, he won the stage.
Cavendish is not as adept to riding in the wind as four time Tour of Qatar winner Tom Boonen is. After the first stage of this year's race, where the a breakaway made it to the finish in typically blustery conditions where the maximum wind speed was over 30km/h, it seemed that overall victory would be beyond the Manxman.
But after the team time trial on Stage Two, where his Omega-Pharma Quick-Step team finished third, the wind in Qatar died down considerably to a much more moderate 17 km/h. Once the wind was no longer such a factor on the race, the overall prize became a formality as Cavendish gobbled up stage wins for fun – with a leadout, without a leadout or sprinting on his own down the opposite side of the road from everyone else, as he did on the final stage.
Below is a graph showing the maximum and average wind speeds for each stage in this year's Tour of Qatar (red lines). These are plotted against a much windier edition from 2009 (blue lines), where the bunch came home in dribs and drabs every day as Boonen exerted his dominance.
The moderate wind speeds during the second half of the race were reflected in the sizes of the pelotons making it to the finish together each day. For instance, 99 riders arrived at the finish together on Stage Three, on only four occasions in the 12 year history of the race has a bigger bunch contested the finish. These wind speeds made Cavendish's overall win inevitable.
The wind speeds in Italy come March 17th will be more akin to the 2013 edition of the Tour of Qatar than those of 2009.
Cavendish has tried this trick before. In 2009, the year he won Milan San Remo when he beat Heinrich Haussler by a matter of millimetres, he made great efforts to convey in his interviews that he should not be considered a contender. The following is from a conversation printed in the March 2009 edition of Cycle Sport magazine:
"Milan San Remo for the next couple of years is going to be like Ghent-Wevelgem in 2008 [he finished 17th] or the Tour in 2007 [best stage placing was ninth, before abandoning on Stage Eight]. I'm going there for the experience. If I get a result, that's great. If I don't, I don't."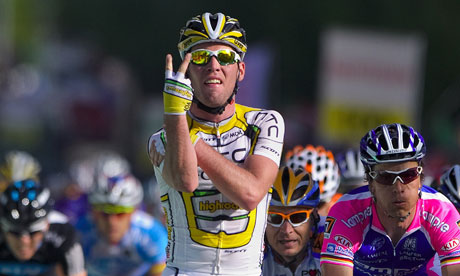 And again in an interview with cyclingnews.com in the days just before La Primavera:
"Sanremo is one of the most difficult races on the calendar, I am only 23 years old and don't expect too much.
He admitted his tactic after he had won the race in another interview with Cycle Sport magazine (June 2009) saying that he even went so far as to fake being in trouble during races when the camera was on him:
"People think I can't climb. Tom Boonen said I couldn't get over a railway bridge. I wanted them to keep thinking that. I needed them to keep thinking that…In Eroica, I made sure I got dropped with a few team-mates around me, and I made sure it was on TV. I knew people would look at it and say 'Well, he's not going to win Milan-San Remo climbing like that.'"
The ploy worked so well that the following year, when he genuinely was on bad form, recovering from dental surgery, nobody believed him when he ruled himself out of contention – he finished the race in 89th.
But four years have passed since he pulled the wool over the peloton's eyes, have they now forgotten? Four years ago the Irish economy was in the process of completely collapsing as Fianna Fail were busy passing laws which has brought this country to its knees. Today, an opinion poll has been released which declares that Fianna Fail is, once again, the most popular party in the country. A famous Bushism regarding fooling people comes to mind.
Last year, Cavendish did not perform well in Milan San Remo. He missed the split on the climb of La Manie with about 100km to go and eventually abandoned the race as a result. But last year, he was attempting to spread himself very thin in an Olympic year where he was expected to deliver.
This year, there is no Olympics. He may not even be selected for the World Road Race championships due to the hilly nature of the course. If we are to believe Cavendish that he has no plans for Milan San Remo, this leaves the only major goal of his season as the Tour de France, which is nearly five months away. Has he really no ambitions to win another edition of this monument classic? As an Irish mammy would say, 'sure what else would he be doing'?