July 21, 2013 by Irish Peloton
Cycling's Newest Conundrum
Cycling is changing. It's becoming more and more popular and judging by the evidence we've seen during this year's Tour de France, it is not dealing with its growing popularity very well.
For the most part, cycling fans have a few riders that they enjoy watching with which they may or may not share a nationality. Unlike football fans, up until now at least, the cycling equivalent don't tend to support a team through thick and thin. One of the major reasons being the nature of the financial structure of cycling teams – the teams themselves don't tend to stick around for very long for fans to develop any sort of rapport.
But recently, there has been a tribalism settling in around Team Sky, something which British cycling fans have never experienced before. The team actually has 'supporters' who wish to see the team succeed regardless of the rider. This is a behaviour which has been encouraged in the past by Jonathan Vaughters, the manager of Garmin-Sharp.
Two years ago, Vaughters released a 10-point plan outlining changes which he thinks should be implemented in order to improve and stabilise the sport of cycling. One of these points was:
Consistent, year after year, team branding to develop fanbase
The turnover and renaming of professional cycling teams from one year to the next makes it easy to understand why this may be a desirable change to the sport. But the idea that cycling fans support one team and one team only the way football fans do is not straight forward.
In this year's Tour de France, Mark Cavendish had urine thrown at him during the second individual time trial. This is not an isolated occurrence, similar unsavoury incidents have happened in the past. The most famous fan interaction is probably when Eddy Merckx was punched in the kidneys on a climb during the 1975 Tour de France.
Fans of any sport are liable to do crazy things and the more fanatical they become, the more maniacal they become. Football fans in stadiums have limited access to the stars of the show on the pitch. The interaction, for the most part, is confined to chanting from the stands. On a weekly basis, fans in England would chant about Luis Suarez being a racist bastard, Arsene Wenger being a pedophile or their desire to murder Malcolm Glazer.
The majority of the people taking part in these chants are grown men who probably have children and respectable jobs and who might not usually resort to this kind of behaviour in any other setting. But this is the power of the mob mentality. Is there a minority of rabid football fans who could not be trusted to be within arms reach of the rival team's players?
Friends of mine often cannot believe when they see cyclists wend their way up mountain passes through a mass of people. How are the riders not pushed off their bikes more often? How are there not more crazy incidents involving fans?
The only answer I have is that cycling fans are respectful of all of the cyclists and they're not wishing any ill-will on the riders. Would stable, long-term team franchises threaten to destabilise this wall of respect that exists between fan and rider?
Then there's doping…
What is the difference between Carlos Sastre's ride up Alpe d'Huez in2008 and Chris Froome's ride up Mont Ventoux this year?
Sastre finished 2'03" ahead of everybody that day in 2008. Froome finished just 29 seconds ahead of Nairo Quintana on Mont Ventoux, and seven other riders finished within 2'03" of him. Yet Froome has had to deal with an inordinate amount of accusations of doping, a problem Sastre, managed by Bjarne Riis, hardly had to deal with at all. So what's changed?
The obvious changes since 2008 are that fans (and journalists), via social media, have been given much more of a platform on which they can air their concerns and shout out their doubts and accusations. There is also the fact that this is the first Tour de France since the USADA reasoned decision was released. It is to be expected that fans (and journalists) don't want to be blindly led down an alley of deceit once more, so it is only natural that there are more questions now than ever. Fool me once and all that.
But there is a further contributory factor to the shit that Froome has had to put up with during this year's Tour de France and that is the black and white-ness which some fans are now viewing the sport. Fans of Team Sky are adamant that Froome is clean, this tunnel vision view feeds and antagonises those who think he's doping, and with equal tunnel vision the cries of doping are shouted louder, which in turn feeds and antagonises the Team Sky fans and it goes around and around and nothing constructive emerges.
This is a dangerous trend which is emerging among fans of the sport. Instead of chanting ridiculous songs about racists and pedophiles, cycling fans can simply cry 'doper'. Arsene Wenger is not going to be asked in a press conference whether he is or isn't a paedophile, because it's preposterous and baseless. But if enough fans shout 'doper' at a cyclist, because of the sport's past, it is probable that he will eventually be asked in a press conference if he is or isn't a doper, whether it's preposterous and baseless or not.
A further problem with the fandom model being urged by Vaughters and being realised by Team Sky is that fans have absolutely no say in what goes on in 'their' team. The financial model for cycling, even with stable 'team branding' does not rely on the fan at all. With football, if the fans don't like the manager, if they shout loud enough about it (literally) then there's a fair chance the manager will be sacked. Football teams need fans to buy merchandise and fill stadiums. Being a spectator of cycling costs nothing, managers of cycling teams do not have to pander to the fans the way football managers do.
Last week it appeared that Team Sky manager Dave Brailsford caved to public pressure and released some of Froome's data to L'Equipe for analysis, but this is very much the exception. It appears that cycling teams want fans, but ultimately, they don't need them.
Currently, many cycling fans have a guarded cynicism which they cannot be blamed for after enduring decades of scandals. Given the fact that fans have not got a long affiliation with any one team, what would happen if a spate of riders on the one team tested positive? Would fans simply jump ship?
Football fans usually support a team because their Dad or older brother supported the same team. There's a family history involved and a loyalty that to turn your back on would be blasphemous. Dr. Niall Redmond works for the popular game Football Manager and is no stranger to maniacal football fans. He himself is an avid supporter of Manchester United and I asked him if he found out tomorrow that United had been organising a massive team-wide doping programme in the 1990s and all of the 1999 Treble winning team began admitting to taking various drugs in order to win….would he still support the team now?'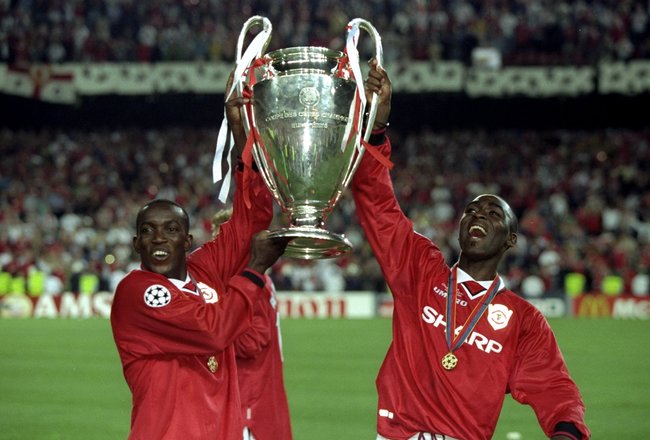 "If it were proven, I would be massively upset and very angry, but I would keep supporting them" admitted Redmond "in the hope that it wouldn't happen in the future, that the team and those in charge would change and it would become something good again."
But what about football fans by nature being blind in their support? Does this contribute to a complete unwillingness to acknowledge that there's a chance there might be doping prevalent in their team?
"I've talked about the possibility of doping in football to a number of football fans who dismiss it instantly. If you said to any fan, there's a worldwide doping problem in football, but your team is involved, there's no chance they would want it to come out. But for me, if it were a rival team, say Barcelona, then I would take pleasure in seeing it come out."
This loyalty that football fans have toward their own team and the tendency to spite any rival is the reason why the sport is so popular. But it is perhaps also the reason why fans think there is no doping in football. Redmond suggests "what's happened in cycling, and how the world now views cycling, probably makes it more unlikely that football authorities would ever investigate doping in any significant way".
Cycling has a conundrum. The doping problem is known but now teams are gaining 'fans'. There is a very real potential for the sport to grow in popularity but in tandem, the potential is also there for it to degenerate even further into a never-ending game of mud-slinging. Team Sky have had to deal with this problem more than any other team and so far they have yet to find a solution. Endless aspersions is not the price that teams should pay for gaining fans. But currently, this is what the sport is stuck with.