March 22, 2016 by Irish Peloton
The big Milan-San Remo let down
Football is boring. Cycling is interesting.
Football is simple. Cycling is complicated.
Cycling is better than football.
This is how we're all supposed to think isn't it? Cycling is the reserve of the sporting connoisseur whose palate for action is more distinguished and refined than simply watching 22 dunderheads kicking a ball around a field. There is more subtlety on two wheels, more going on than any of us can see or realise, therefore it's harder to understand, therefore you need to be more intelligent to understand it.
As cycling fans, we think we're of a higher standard of sports fan. And amongst this group of lofty sports fans there is an even loftier lot, a sub-group of hipster-types who claim to enjoy the more obscure over the front and centre. These are the guys who'll tell you they prefer the Giro over the Tour, or they'd rather watch the GP de Wallonie instead of Liége-Bastogne-Liége. And this higher standard of cycling fan will also tell you that Milan-San Remo is a hugely exciting race.
These cycling fans are wrong.
We're told that this near-300km race is a slow burner. It's a race where the invisible subtleties belie the incessant action within the peloton. Every pedal stroke a rider manages to save between Milan and the Via Roma gives them a better of chance of winning. Every misstep results in the opposite. Staying out of the wind is an art that some riders have managed to perfect while others attempt to bludgeon their way to victory in spite of a lack of finesse.
Winning Milan-San Remo is an accumulation of infinitesimal acts and flouts which ultimately contribute to selecting the latest member of The Monuments men. It builds, we're told, into a crescendo as the bold and gallant wend their way down the Poggio in the vain hope of staving off the rampaging pack.
But this is all bullshit. It builds into a crescendo in the same way that the month of January is building towards the crescendo that is Christmas. Sure, there are presents being manufactured and shipped various places that early in the year, but by the time Christmas actually comes along we've no idea what went on in January that contributed to the current festivities. We didn't see anything happening in January. We don't know so it's hard to care. Besides, we're all too busy feasting on cheese, Guinness and Cadbury's Roses.
Cycling fans cannot possibly appreciate all the subtleties of Milan-San Remo as it builds towards its fabled crescendo. We can't appreciate them because we can't see them. There are a limited number of motorbike cameras following the race so it's only natural that they focus on the front of the peloton and on any breakaways which are up the road. There were 200 riders in the race last Sunday all performing thousands of movements over the course of almost seven hours. But we have no idea what most of those things were. It is those things that make the race interesting.
Many of those things emerge in the aftermath of the race as little details are revealed when rider after rider are interviewed about their experience. The biggest case in point this year is the accusation that eventual winner Arnaud Démare held on to a team car going up the penultimate climb of the Cipressa. Whether he did or he didn't cheat is immaterial, the issue of broader importance is that we don't know.
Another example of this invisible behaviour was revealed in the aftermath of the 2009 edition won by Mark Cavendish. We were told how he had concocted a plan with the help of his directeur sportif Rolf Aldag and four-time winner Erik Zabel to position himself at the front of the bunch on each climb. He would slowly drop back through the group as each superior climber glided past him. Then he would spend the time before the next climb working his way back to the front.
Cavendish's grand plan for victory actually went back further than kilometre one of Milan-San Remo. During Tirreno-Adriatico the week before he made efforts to be visibly seen by his rivals being dropped on climbs he would normally have expected to be better on. He was deliberately attempting to fool everyone else that he wasn't on form and shouldn't be considered a threat. But we didn't know about any of that because we couldn't see it. We found out about Cavendish's tactics weeks later, but by that stage we'd all moved on to thinking about Paris-Roubaix or the upcoming Giro.
Even at the times when we can see the action, what we know about what we're seeing is limited. In a geographically picturesque race like Milan-San Remo, particularly in the final few coastal kilometres, it's natural that the television director would rely heavily on helicopter shots to try and make the pictures as visually stunning as possible. However, this makes rider identification very difficult. It's hard enough figuring out who's who underneath the helmets and the sunglasses. It's quite another task to do so when the pictures are from the top down with no facial features to even try to work out. And let's not forget that the race commentators are seeing the same things that we are seeing. Rider identification is something which commentators are more adept at than the rest of us. But even on a clear day where riders do them the favour of leaving the anonymising rain capes at home, it's an arduous task at best.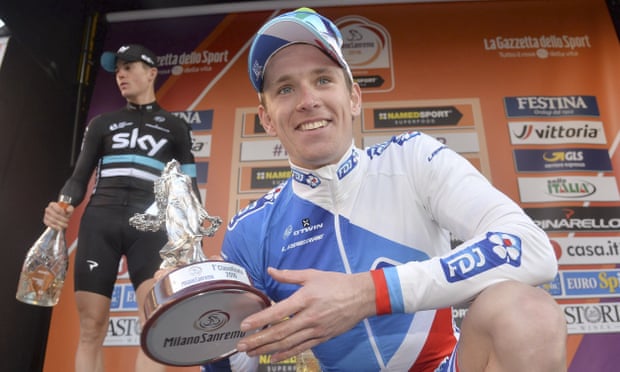 As the riders were approaching the Poggio for the grand finale of this, one of the grandest of races, moves were happening and riders were attacking yet we had no idea who was involved. It was the biggest race of the year so far and we were utterly guessing as to what the hell was going on and who was still in contention.
And yet, we're told 'this is cycling'. It's a beautiful sport. It's the hardest sport. And so we should appreciate it for what it is, not complain about what it isn't. What's unfolding is sophisticated and to complain about a lack of details is an affront to the unknowable, intangible beauty of the race.
It's like being asked to watch a football match where the only footage is via a camera fixated on the ten yards around one of the corner flags.
What is most frustrating is that there is technology available right now to fix this. Forget on-board cameras. Forget live telemetric data. Forget Velon. All that is needed to revolutionise the way we watch and appreciate cycling is to know where all of the riders are all of the time. If you stick an iPhone in your pocket, a mobile app like RunKeeper can relay your live position back to anyone watching online. And if broadcasting that to viewers is too much hassle for a television company then at the very least, track where the riders are individually via GPS and give this information to the commentators. Having this information to hand would put them in an infinitely better position to explain what is going on than the absurdly inadequate tools with which they currently have to work with.
Was the 2016 Milan-San Remo exciting to watch on TV?
Certainly not.
Was the 2016 Milan-San Remo an exciting race in general?
We have absolutely no idea.